English
Nederlands
The water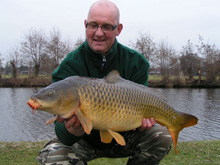 The carp pit is about 10.000 m2 large and accesible from one long side.
De water is connected to a 10 to 15m wide access canal behind the house. The depth of the carp water runs from 50cm to 1.5m with two small islands surrounded by reed.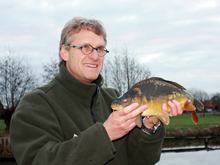 The carps have planty space to grow, thanks to a large dredging action in 2010.In 2012 we added 77 beautifull young french carps and in 2013 we received a donation of 11 more.
In 2019 we added 50 beautifull Czech and Hongarian carps.
The last big modification of the water size was accomplished in 2013.
Removing land at the long side of the water has made it wider with larger pits and nice shelters.