English
Nederlands
Original house build for the skating lake
The skating house is build in 1910.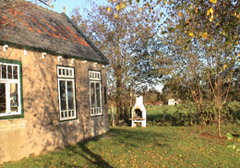 The skating lake opened in 1904 geopend. The cost for buying the ground was paid with interest-free shares and the sales of the soil from digging the lake. In 1954 they started working on a plan to build a lightning installation along the eastern edge. De skating lake has been in use until 1968.
Your stay in the house

The basic house has been improved to stay longer. You will find several slaeeping places at the attic and the rear of the house. If you prefer to sleep outdoor in your own bivvy, you may camp at the spot, close to your gear.
<tariff plan>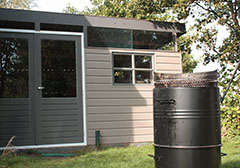 You will find several 230VAC plugs. The kitchen is complete with a dual gas burner and a jerrycan with drinking water. The water from the tap is pumped from the well and the shower is heated by a gas geyser. A good 3G internet connection is possible, thanks to a mobile phone pole at only 280m distance from the Carp Pit.