English
Nederlands
Welcome at Carp Pit Ammerstol
This Carp Pit is een unique piece of nature in the Krimpenerwaard with a historical link to being an old ice rink with a small house at the waterfront.

The wide open water is an ideal living space adjacent a channel (wetering) which runs from Ammerstol tot Lekkerkerk. You will experience a very free feeling in a typical Dutch (polder) landscape, without any adjacend road traffic or walking trails. By using our online agenda you can check if your desired day is still available. Especially if you want plan a date together with some carp friends the agenda is the best way to check before picking up the phone to make a reservation. Go directly to the AGENDA ->
Solar power & water
More comfort at your service. The new solar power system is working according the expactations and the kitchen watertap is connected to the natural well. You can charge your mobile devices, use electric light and boil water for thee or coffee. Take a warm shower from the new watertank and be at eas in our remote natural environment with natural resources.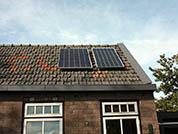 More info about the house
Carp and Pike
The last added carps are from the Belgium carp farm Corten. It's a nice mix of mirror-, scale- and grass carps.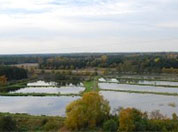 The Corten family delivers Czech and Hungarian Carps.
From Oktober to March you may come to the Carp Pit to catch Pike.
Fish shelters
The long side of the water gives you some nice spots and shelters. From this side you will enjoy the wide view over the grass fields.
De most remote pit gives a nice view over the whole water. All pits and shelters give plenty space to position your gear and relax.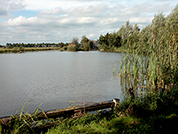 Halfway the long side you will find a wide area with a roof, chairs and a fire pit.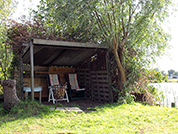 More info
Motorized transport
Pushing the canal boat (schouw) with muscle power is now history. De canal boat is equiped with quiet electric motor which brings you within ten minutes to the Carp Pit lake. We will bring you and your gear to the Pit, free of charge.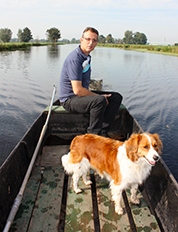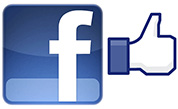 Visit our Facebook page and become friend of the Carp Pit Ammerstol.
Mailing list
We will not spam your mailbox, but if we have news to announce, you will be updated.
Sign up: